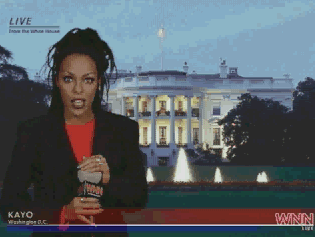 Kayo was born and grew up in Danderyd, a suburb of Stockholm. Larry, her father was a jazz musician of Nigerian origin and her mother was his greatest fan. She worked with drug addicts. From the time when Kayo was 6 until the year when she became 16 she danced ballet. She finally became a professional ballet dancer, and travelled through Europe with various dance troupes and Swedish celebrities.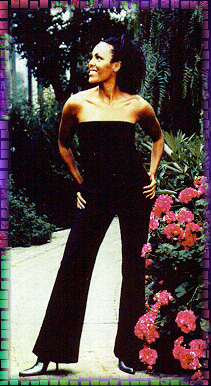 Kayo had also spent much of this time singing. At the age of 14 she became a member of the group Freesyle, wich had megahits like Vill ha dej (I want you) and Fantasi (Fantasy). She later left the group, and in 1989 she decided to sing full-time and joined a group of talented artists and DJ:s who started a record company called Swemix. Kayo's first hit was Another mother, a swinging pop-reggae-tune followed tightly by the much more soft and moodier Change of attitude, both in 1990. Later the same year her self-titled debut album was released. It was a Stonebridge production blending rap, hip hop, and soul.
Her second album Kärleksland (Loveland) was released in 1993, and now Kayo sang in Swedish. Kärleksland was more of a pop-album, and it was produced by the clever pop-maker Orup. This album featured Kayo's greatest hit prior to the Afro-dite era: Om natten (During the night), a charming soul-ballad which reached no 4 at best.
Kayo then changed direction completely and started a film-career. She was chosen for a leading role in the Swedish action comedy Pillertrillaren, (the Pharmaceutical company) in which she played the daughter of the owner to a big pharmacy plant who finds herself mixed-up in strange events and falls in love with a new employee (Jakob Eklund). In 1994 she became the hostess for the TV game show Fångarna på Fortet (Fort Boyard). She hosted the show for several years together with the former ski-king Gunde Svan.
Kayo also met Lotta von Arnold, who hired her as responsible for the music at the annual Stockholm New-Age-festival Peace in Mind. Being an executive was not enough for Kayo at those events, she dug deep into the work and did everything from carrying cables to high-level organising. During the time with Peace in Mind she made a lot of new friends and learned to be brave enough to drop her past and to dare to do something new. To invest in the future.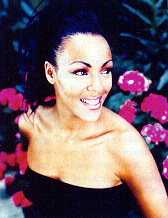 At Peace in Mind she met the songwriter Kevin Vis and the producer Ossi Bashiri, and together with them Kayo formed the band Out There. Out There's debut-single These Honest Hands arrived in the early summer of 1997, and the self-titled debut-album came later the same year. It was an album full of spiritual tunes and world-music inspired tracks, catching inspiration from the New Age-movement. Not the party-music Kayo has been doing earlier, but she was more than pleased with the result.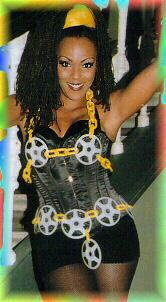 And just when Out There was beginning it's career Kayo was contacted by two German music-executives who needed a singer for an europop band. They wanted Kayo, and first she turned their offer down, because she was busy with Out There. But later she changed her mind, probably because Out There did not become the hit she had hoped it to bee. So she went to Germany and met the rapper Robert Haynes, who has been an US army-DJ. He became the second part of what became Le Click, Kayo's new band. The debut-album was produced by the German dance authors Amir Saraf and Ulli Brenner (the couple behind LA Bouche's hits Sweet Dreams and Be My Lover), with songwriting contributions by Nosie Katzman (Captain Hollywood Project and Culture Beat). Two hits from the album are Call Me and the title-theme Tonight Is The Night.
When Kayo and Robert Haynes came to US for promoting their single RH disappeared for three days without anybody knowing what had happened. It turned out that he has been arrested because of old unpaid taxes, and Kayo feared that this was the end of Le Click. But the record-company asked Kayo if she wanted to go out and promote Tonight Is The Night by her own. Kayo accepted, and went out to do one of the hardest thing she had ever done. She was alone with a minor hit and a couple of songs no-one has heard before, a black lady playing white music for an audience that didn't know her.
Then there was silent about Kayo for a long time - until she teamed up with her two collegues Blossom Tainton and Gladys del Pilar and formed Afro-dite. The girls named themselves Sporty Funky Babe (Blossom), Sexy Glamorqueen, (Kayo) and Classy Gospeldiva (Gladys). And Afro-dite went from nothing to stardom via the Eurovision Song Contest, where they won the Swedish preselections with the catchy song Never let it go and went on to represent Sweden in Riga. They vere expected winners so there was some dissapointments when they only reached 7:th place in the competition. But that didn't stop Afro-dite from releasing a funky album filled with pure retro-inspired disco, called Never let it go and going on a successful summer tour. There were also talk about an internatinal launch but that was canned later.
And in the next Eurovision Song Contest preselection they were back again, with the slightly more modern dance track Aqua Playa. This time Afro-dite reached the final but found themselves beaten by the duo Fame. And now Afro-dite has split up. Temporary or permanent is too early to say, and Kayo has backed out of the spotlights for a while.